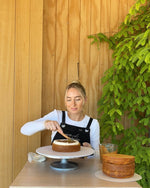 My love for cooking began as soon as I could reach a stove top. Baking followed shortly after as I watched my mum create all of the sweet treats on my family's restaurant menu, and children's cakes for our local home industry in South Africa.
Perth cake collective was established in 2017 and my passion for baking, and the design elements have only grown since.
I pride myself in being a perfectionist when it comes to caking, and going above and beyond to ensure each customer is happy with their order. Each cake I create is special and unique to me as I hope it is to you and your guests. You can also always take comfort in that fact that we have never cancelled an order on any customer.
Ash xx